Myself, and four other lovely Spa Magnolia ladies had the opportunity to attend a Jane Iredale event in downtown Vancouver this past Tuesday. Talented makeup artist and Jane Iredale global educator, Hannah Hatcher gave an informative, engaging (and hilarious) presentation. Our team left feeling knowledgeable, inspired and reinvigorated about this beautiful mineral makeup brand. Here are our top takeaways from the event!
Don't be afraid to mix your foundations! Jane Iredale products are designed to work together, so if you love one product but want to vary the coverage and/or finish; or simply want to reap the benefits of two of the liquid foundations – mix them together! Love the hyaluronic acid in the Liquid Minerals but want some SPF? Layer it with the Dream Tint to keep your dewy, light to medium coverage, or with the Glow Time to add some protection and a velvety finish. If you have oily skin but want a fuller coverage, mix a tiny bit (a little goes a long way) of Glow Time with the Dream Tint for an all day wear that's still lightweight. The PurePressed Base powder and the Amazing Base Loose powder also make a great addition to your liquid foundation by adding more coverage, a matte finish and some bonus SPF!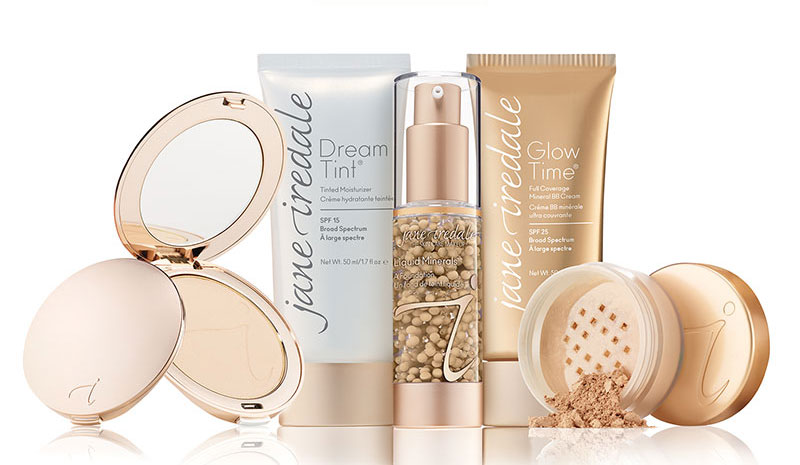 The importance of the "Power of 3". Primer, foundation and hydration sprays are a pivotal dream team in keeping your makeup fresh all day. The average woman wears her makeup for approximately 10-12 hours a day – that's a long time for it to stay put! When used together, these products work synergistically. Start with the Smooth Affair Primer (expert tip: you can actually use the primer in place of a morning moisturizer!), follow with your foundation of choice (liquid, powder, or liquid + powder) and finish with a delightfully scented hydration spray. The powders are made of minerals, whereas the minerals have been removed from the sprays, so the foundations can grab onto the spray more easily – think of the two working together like a magnet. Not sure which ones to choose? Check out our suggested combinations:
For drier skin, use: Smooth Affair Facial Primer & Brightener + Amazing Base Loose Mineral Powder with the Chisel Powder Brush + D20 Hydration Spray
If you have oilier skin, use: Smooth Affair for Oily Skin Facial Primer & Brightener + PurePressed Base Mineral Foundation with the Handi Brush + Balance Hydration Spray
Sensitive/environmentally damaged skin, use: Smooth Affair Facial Primer & Brightener + Glow Time Mineral BB Cream + Pommist Hydration Spray
Want a "no-makeup" look: Smooth Affair Facial Primer & Brightener + Dream Tint Tinted Moisturizer with the Blending Brush + Hydration Spray of your choice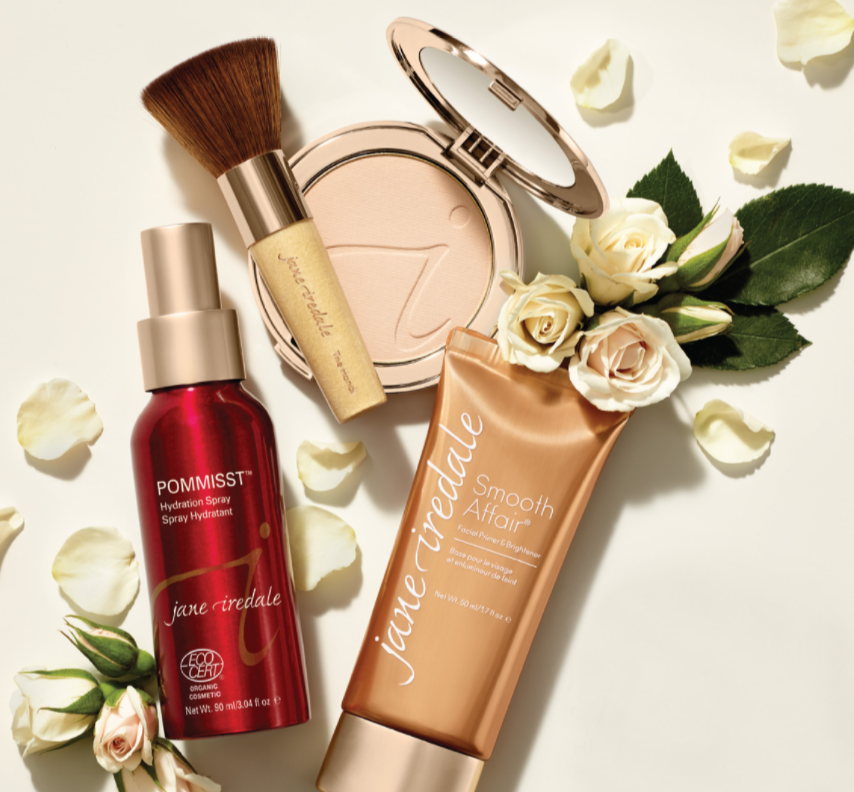 A brand that cares for the earth. Jane Iredale is going as green as possible! The company is always working hard to reduce their carbon footprint. They are offering all training, retail and admin support online instead of on print outs, and are using recyclable and recycled materials for all their packaging. Even the PurePressed Base Mineral Foundation now comes as a refill for the reusable compact instead of buying a new one every time. They are also huge animal lovers! Head office is pet-friendly and employees are welcome to bring their dogs to work (dreams DO come true!). The beauty brand is also Leaping Bunny Certified. This means there is no animal testing at any stage of the process and insurance that ingredients bought from other distributors are not tested on animals either.
Some more quick tips…
Keep your Magic Mitt by your bed with your favourite cleanser for those nights where getting up to wash your face is just waaaay to much effort
Liquid Eyeliners are latex free! So they won't cause any irritation for sensitive eyes
Pat some translucent Amazing Matte powder over the Mystikols to dry them quickly and keep them in place
Clear Purebrow Gel can be used to give lash extensions a glossy lift! It is oil free, so it won't break up the adhesive on your lovely lashes
If you have mature skin or texture around your eyes, go for the Active Light as your under eye concealer. The formula is lightweight and super hydrating while still offering a range of colours to correct under-eye circles
When applying your powder (PurePressed Base or Amazing Base Loose), you can switch up your tools to vary the coverage:
Flocked Sponge – full coverage; Handi Brush – medium coverage; Chiseled Powder Brush – light coverage